Welcome !
Situated near Rouen about two hours west of Paris, Fontaine-Châtel is nestled in the heart of a 27-hectacre forest. It is an exceptional spot for cabins in the midst of nature and its animals. Lucky visitors will see wild boars or deer (as our friends in the "Great Beechwood" cabin did in October 2010) as well as squirrels, pheasant and other birds – a pair of buzzards has made its nest near the "Cradle" cabin. In order to preserve the peacefulness of the site, all movement is done on foot, on bicycles or on ponies.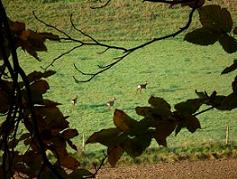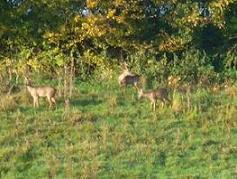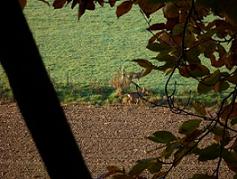 It's always the right time!
Whether for a weekend or as a special getaway for lovers, families or friends, the tree cabins of Fontaine are the perfect place to begin a visit to Normandy. Some of the cabins are easily accessible to older visitors or those with limited mobility. Don't hesitate to ask us for details.
Reach for the stars!
Discover our unique accommodations: lovely wood cabins perched in century-old trees. Rejuvenate yourself any time of year in these highly original dwellings, which are equipped with portable heating units for chilly nights. Anyone over two years of age is welcome. To reserve your tree cabin, go to "Reserve Your Cabin."
Dining!
Don't forget to reserve a hot meal at least 48 hours in advance (see "Reserve Your Dinner" in the "Cabins" section). If you forget to order ahead, cold meals will soon be available on demand.
Take advantage of a range of activities for kids and adults.
At Fontaine, Normandy is at your feet!